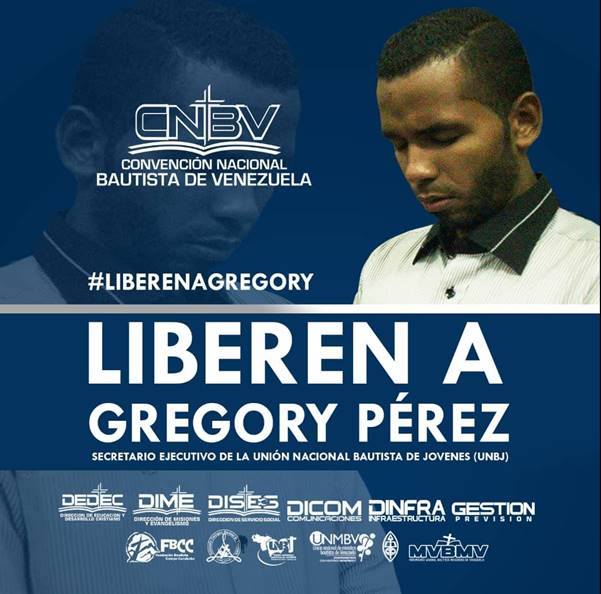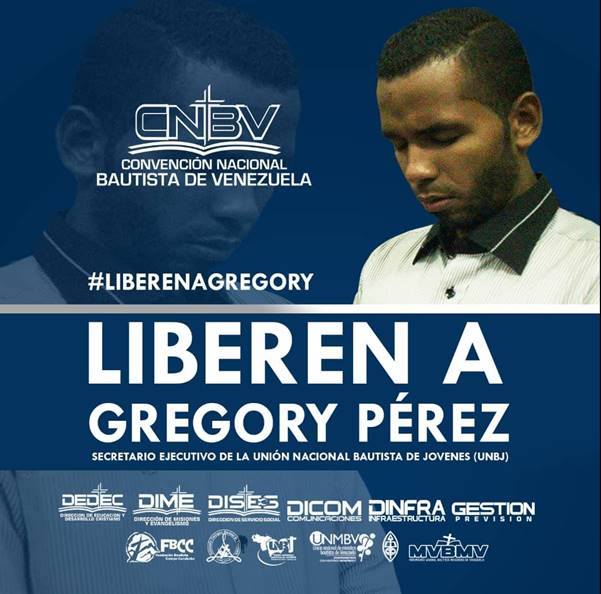 Amid protests and political unrest in Venezuela, global Baptists are calling on government authorities to release an arrested Baptist leader. Gregory José Pérez, executive director of the Unión Nacional Bautista de Jovenes (National Baptist Youth Union) in Venezuela, was arrested on Jan. 23. Reports from the country also note Wilmer Mendoza Zambrano, a youth leader at a Baptist church in Barinas and son of a Baptist pastor, was killed when shot in the head by police as he joined a demonstration that same day.
On Jan. 10, Venezuela's opposition leader, Juan Guaidó, declared himself the acting president of the nation, arguing that President Nicolás Maduro's 2018 reelection was illegitimate. The United States and many European and Latin American nations have since recognized Guaidó and urged Maduro to step down. In protests throughout January, more than 800 people were arrested and at least 35 killed.
The Unión that Pérez leads as a volunteer is a ministry of the Convención Nacional Bautista de Venezuela (National Baptist Convention of Venezuela). He is active in the New Life Baptist Church in San Felipe, and his mother — Dinorah Aular — serves as a pastor at another Baptist church there. Due to protests near a communications center where he was working at the time, Pérez was asked to vacate the premises. Police then arrested him nearby in the home of friends, even though no evidence connected him to the protests. He was arrested along more than 30 other people, including several children.
Elijah Brown, general secretary of the Baptist World Alliance joined regional Baptists in calling for Pérez's release. According to the Baptist World Alliance, the Convención includes more than 560 churches with more than 60,000 members.
"Brother Pérez has dedicated his life to serving others, most especially the children and youth of Venezuela. Baptists across the region testify to the positive contributions he offers on a daily basis, from his service as an engineer to his work with young people," Brown said in a BWA statement on Feb. 6. "Yet since his arrest, Brother Pérez has been held in detention, publicly humiliated, charged with a lengthy set of allegations, and treated as a terrorist. He and has family have suffered. This constitutes an excessive and disproportionate restriction on his right to freedom."
Brown and Parrish Jacome, general secretary of the Unión Bautista Latinoamericana (Union of Baptists of Latin America), penned a letter to Venezuelan authorities urging Pérez's release. The BWA has also contacted individuals at the United Nations and in the U.S. government.
"As representatives of millions of Baptists around the world, we write to urge that the charges against Brother Pérez be immediately dropped and that there be a full honoring of the human and legal rights of Gregory José Pérez and the others who were arbitrarily arrested alongside him. We also urge that Brother Perez be allowed to retain legal representation by a lawyer he has freely selected rather than the imposition of a public defender, which was mandated under duress," the letter urged. "We will be watching with trust that Venezuela will uphold these commitments in the case of Brother Pérez."
As the crisis in Venezuela makes global headlines and thousands of refugees flee the nation, Baptists in the country penned a letter addressing the situation. The Jan. 31 letter signed by the president several other leaders of the Convención urges prayers for peace and democracy.
"With regard to the difficult time we face as a nation, we ratify, of course, our desires for peace and well-being for all Venezuelans," the letter noted. "We are committed to the flourishing of a nation, inclusive, democratic and pluralistic, where truth, justice, solidarity and integra prosperity prevail. We invite the evangelical community in general and Baptist in particular to continue to pray for the healing of our land and for a way out of the current crisis that is marked by respect for the highest ideals of democracy and civility."
The Baptist leaders also noted they respected the rights of Christians to engage in the political process, but noted that no action should be considered a political endorsement by all Baptists.
"Among other principles, we strongly believe in the freedom of conscience and in the autonomy of local churches," the letter explained. "We respect the freedom and the right that people, church leaders, churches and organizations have to hold public meetings, pray and manifest sympathy and political or other support. However, we note that this act and the information and opinions expressed in it do not represent us as an organization."