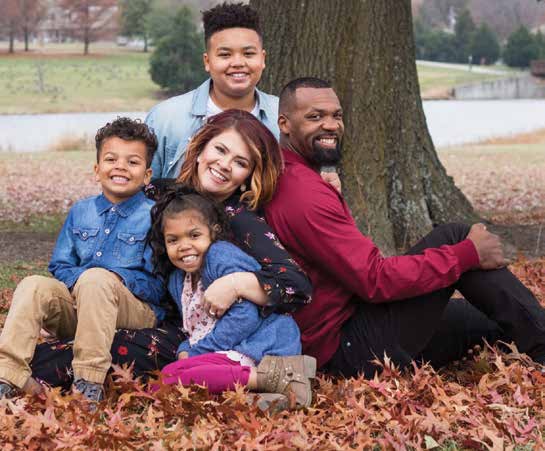 One of the leading causes of divorce and stress is money — more specifically, debt. Through the years, many debt programs have surfaced that promise financial freedom if the subscriber follows all of the steps. But what about the individuals who have incurred debt that has no end in sight in an amount that is beyond consolidation?
For Jill and Leon Washington, who live on the Kansas side of the Kansas City area, a staggering amount of debt became their reality soon after their daughter Tristyn was born on June 19, 2009. Tristyn was born with gastroschisis — meaning there was a hole in her abdomen and her intestines developed outside of her body. Due to this defect, Tristyn has been hospitalized multiple times.
"Tristyn has lived about one-third of her life in the hospital. She has had over thirty-five surgeries, including four major abdominal surgeries," said Jill Washington. "Between 2017 and 2019, she was in the hospital every month for a week to two weeks at a time."
When asked how much medical debt their family has incurred over the years, Jill took a moment and replied, "I don't even know if I can answer that. I know that in the first year of her life, alone, she had over $1 million dollars in medical care. We had a three-month period where she was dropped from insurance and accrued over $75,000 in medical debt from hospital stays [and] doctor's appointments and over $36,000 for medical supplies alone."
For the first three years of Tristyn's life, Jill felt consistently stressed. Not only was her daughter fighting for her life but their family was in over their heads in medical debt and their credit score plummeted. Thankfully, the Washington family became plugged into a church that led them to Christ and helped give them a sense of community during their struggle.
"I don't know if I can even put it into words, how it changed our lives by being saved. I know that God gave us Tristyn to lead our family to Christ. He has provided us with a support system like no other. They have taught us to pray for healing and to give her to God. We have learned to see the blessing in every hospital stay and to be able to see how God can use us through this journey to bless other people walking through similar situations," said Jill.
At one point, the Washington's church asked to help take on their medical debt, but after realizing its severity the church instead thought of other ways to help.
"Our church helping us financially has always come at the times we needed it the most. The first time our church helped us financially, it was after we did a 21-day fast and prayer, and the ways they blessed us were direct blessings from God. The second time they blessed us, it allowed us to move into a home we could rent and is big enough for us to host a small group in our home to fellowship with other people," said Jill.
Although the church was unable to pay off their debt, the Washingtons thankfully qualify for Medicaid.
"Because of Medicaid, some of Tristyn's medical debt has been forgiven. We are lucky that since we don't make a ton of money, she still qualifies. However, it puts a cap on what we can make. If we make too much we then have to cover the cost of her insurance, all co-pays, and deposits for procedures," shared Jill. "At one point, I had to take a promotion at my job without a pay increase because if I made any more money she would lose her insurance and I would be required to pay at least $700 monthly just for basic care and insurance."
Eventually, Jill was forced to leave her job because Tristyn's hospital stays became so frequent.
"When Tristyn started getting sick again, right after I had her brother Teagan, she was still treated in Omaha. We had a two-week hospital stay where I was living in her hospital room with a newborn and Leon was in Kansas City so he could work or we wouldn't have been able to pay our bills. Thank God when she turned six, one of her doctors moved to Kansas City so we can now be treated here. God definitely worked that out for our benefit," Jill said.
Since leaving her job at the bank, God has blessed Jill and her family in many ways. She became a successful consultant for Mary Kay and can work from home or the hospital. Her in-laws also bless them with groceries when money is tight. One of the biggest blessings continued to be their church.
"Tristyn's pastor comes to see her almost every day of every hospital stay for the past four years. He teaches her how to pray for her own healing and healing for others. He teaches her about how to live a Godly life and how to use her testimony to bless others," said Jill. "Our church also makes sure that someone comes every Thursday morning to stay with Tristyn so I don't have to miss Bible study. They have shown us the love of Jesus like most people never get to experience. It has truly changed our hearts for people and community."
Despite all of the blessings the Washington family has experienced, they still have an exorbitant amount of medical debt looming. And for many individuals and families with this type of debt, they are not as fortunate when it comes to support.
— Excerpt from "Year of Jubilee!" in the March 2020 issue of Word&Way. The full article describes the movement of churches around the United States that focus on paying off medical debt for those in need, the biblical foundation of Jubilee and the work of organizations, individual churches and individuals to relieve debt in their communities.