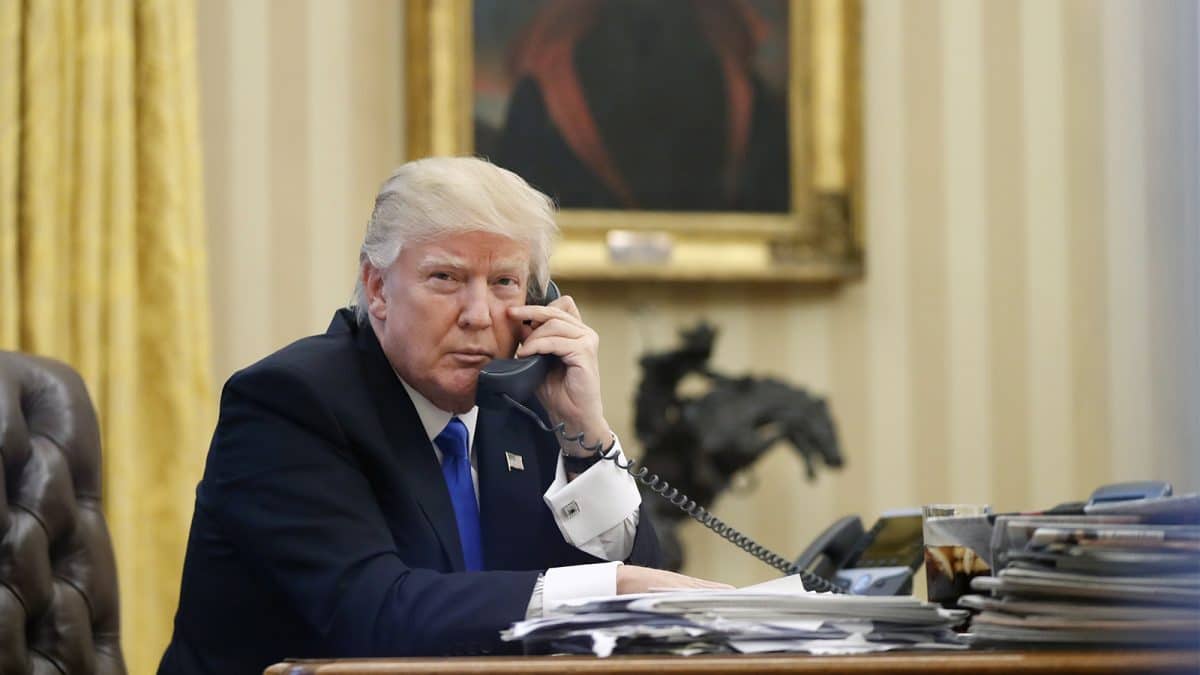 (RNS) — The White House held calls with religious leaders last week to encourage their support of its guidelines for addressing the coronavirus, gathering more than a thousand people on three phone calls.
President Donald Trump took part in at least one of the calls.
"On Friday, President Trump joined Vice President (Mike) Pence for a call with hundreds of faith leaders to discuss the latest health guidelines to help slow the spread of the virus," a White House official told Religion News Service. "Last week, the White House hosted three phone calls with more than 1,200 inter-faith leaders from across the country. President Trump encourages Americans of all religious backgrounds to do their part to stay healthy and stop the spread."
When Trump briefly took part in the Friday call, he addressed the pending election as well as the pandemic.
"We have a pretty wild world out there, both in terms of people that are opposed to what we believe and what we think and also with respect to this whole new virus that came upon us so suddenly," Trump said during the few minutes he was on the call.
The Centers for Disease Control guidelines related to faith-based groups have shifted over time. They now include advice to "Cancel or postpone in-person gatherings or move to smaller groupings" and "Cancel or modify smaller gatherings (e.g., religious education classes), where persons are likely to be in close contact."
But Trump also told a Fox News town hall Tuesday (March 24): "I would love to have the country opened up and just raring to go by Easter."
Tony Perkins, president of Family Research Council, which organized the Friday call, wrote about it on the conservative Christian group's website and included a link to the hourlong discussion that featured Pence and Secretary of Housing and Urban Development Ben Carson along with, Perkins said, 700 pastors.
Trump thanked the leaders for their prayers for the country. But when asked by Perkins, who hosted the call, what he most wanted pastors to pray for, the president sought petitions for the country's health and strength and "that we make the right choice on Nov. 3."
"It's a big day, Nov. 3; that's going to be one of the biggest dates in the history of religion, as far as I'm concerned," the president said before Perkins asked for Trump's prayer requests. "We have to keep aware of that 'cause as we fight this (virus), people are forgetting about anything else."
Among others on the Friday call were Ronnie Floyd, president of the Southern Baptist Convention's Executive Committee, said Jon Wilke, spokesman for the committee.
"The president did speak and encourage pastors to continue ministering," Wilke said.
According to Steven Martin, communications director for the National Council of Churches, a council staffer who was also on the Friday call gave a different account.
"He indicated that the call was not about sharing information or engaging faith groups, but more about praising Trump and trying to change the narrative that Trump had dropped the ball and not taken this pandemic seriously early enough," Martin said of his colleague. "In his words, the call 'seemed to be more like a time for Trump's faith surrogates to praise Trump rather than to truly reach out to faith communities.'"
One of the other calls, which occurred on Thursday, was coordinated by the White House Office of Public Liaison and included representatives from several faith traditions, such as leaders within mainline Christian denominations. According to people who were on the call, it was led in part by Dr. Francis Collins, director of the National Institutes of Health, and Dr. Deborah Birx, coordinator for the U.S. coronavirus response.
The pair implored religious leaders to take steps to help protect the elderly and broadcast CDC recommendations such as avoiding large gatherings.
Tony Suarez, executive vice president of the National Hispanic Christian Leadership Conference, said the calls were helpful in answering the questions of several leaders regarding CDC guidelines, which he noted have been distributed in both English and Spanish.
According to Suarez, officials stressed the White House's recommendations for the Trump administration's 15-day plan to combat the spread of the virus — which include avoiding groupings of more than 10 people — should be interpreted as guidelines, and the federal government wasn't pressuring faith communities specifically to stop holding in-person services.
"They never explicitly said, 'Yes you can worship. No you can't worship,'" he said. "Their answer was, 'These are guidelines.'"
Suarez said he was "thankful" for the White House's approach to religious communities, praising those who cancel in-person services but not chastising those who continue to gather.
"There has been a concern in the faith community — me included — about the freedom of assembling together and the freedom to worship together," he said. "Those calls helped to calm that fear and to understand that the government was not forbidding us from assembling to worship, be it over social media or in smaller groups, but to understand the risk that was involved if we opened it up to groups of more than 100 or more than 50 or more than 10 — depending on where you live in the country."
The White House official said the Friday call was to discuss the "15 Days to Slow the Spread" guidelines.
"During this public health crisis, the Trump Administration has been extremely proactive in reaching out to leaders from the faith community," the official said. "White House officials have engaged with many faith leaders to provide updates on the President's and his Administration's actions and to encourage congregations to adhere to CDC guidelines."
In his "Washington Update" column, Perkins praised what he called the "surprise" appearance of Trump on the Friday call that was scheduled with Pence.
"There's hardly a busier, more burdened man in America right now than President Trump," his column reads. "Hearing his voice was a surprise, even to me — but hearing his earnest desire to stand with the faith leaders of America in crisis certainly wasn't."
Suarez, one of Trump's informal evangelical advisers, himself has communed with other believers virtually since the onset of the virus, but noted that he has also gathered with fellow worshippers in groups larger than 10 in the past few days.
"Houses of worship are essential services," he said. "They're the house of hope, the house of healing, the house of restoration. This is where people go to find hope."
In a tweet on Sunday, Ivanka Trump, senior adviser to her father, seemed to praise those who opted not to worship together:
"THANK YOU to the churches, synagogues, mosques, and other religious institutions that have made services available for livestream so that we may gather as a nation in thoughtful prayer and worship! #TogetherApart"