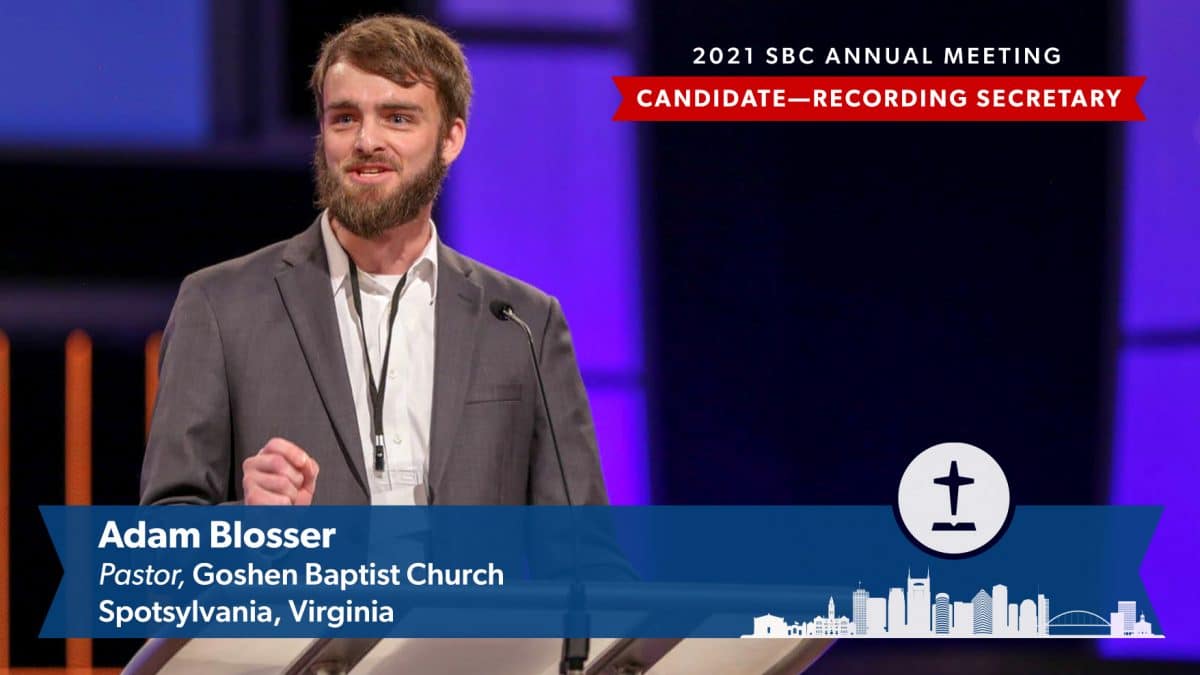 Missouri Baptist Convention Executive Director John Yeats has served as an officer for the Southern Baptist Convention for 24 years. A pastor in Virginia thinks that's too long. So, Adam Blosser announced his candidacy Wednesday (June 9), less than a week before the SBC's annual meeting in Nashville, Tennessee.
"As a matter of principle, no one person should sit on the SBC Executive Committee for over 20 years," explained Blosser, lead pastor of Goshen Baptist Church in Spotsylvania, Virginia. "If elected as recording secretary in 2021, I commit that I will not seek to serve longer than other EC members are eligible to serve [8 years]. In addition, I will work within the appropriate channels, as a member of the EC, to pursue an SBC constitutional amendment introducing a term limit for the office of recording secretary."
David Miller, pastor of Southern Hills Baptist Church in Sioux City, Iowa, will nominate Blosser. Miller told Baptist Press that as "a young SBC pastor," Blosser is "the kind of man we need in leadership."
Ahead of next week's meeting, much attention has been given to the presidential race that pits Southern Baptist Theological Seminary President Al Mohler against Conservative Baptist Network candidate Mike Stone (who played a role in driving Russell Moore out of the SBC's Ethics & Religious Liberty Commission), Alabama pastor Ed Litton, and Northwest Baptist Convention Executive Director and Treasurer Randy Adams.
The position of recording secretary gets less attention. As Blosser admitted, the job "is not glamourous." In fact, the Conservative Baptist Network pushing the SBC to move further rightward has a slate of candidates that doesn't even include someone for that position. But Blosser thinks the role deserves attention.
"The SBC recording secretary is responsible for the record of the proceedings of the Southern Baptist Convention," he explained in his announcement. "He or she trains volunteers for convention business sessions and provides the final edit of the SBC Book of Reports and the SBC Annual. Our annual meeting is an important gathering as we come together once a year for two days to do the business of our convention. If elected, it will be my pleasure to serve Southern Baptists in these important ways."
Blosser also said he is running to bring change to the SBC Executive Committee by being "a voice of reason, cooperation, and Christlikeness amidst what has been an atmosphere of suspicion, division, and ungodliness."  He added that he is "supportive of an independent investigation into the EC's handling of reports regarding predatory abuse."
Yeats, first elected to the role in 1997, will be renominated this year by Jonathan Hayashi, lead pastor of the Northern Hills Baptist Church in Kansas City, Missouri. Yeats sparked controversy in recent years due to his role in the two-year conflict at Southwest Baptist University in Bolivar, Missouri. Hayashi is among the new trustees the MBC appointed at SBU during the controversies. Yeats and the MBC have also been criticized by advocates for victims of clergy sexual abuse.