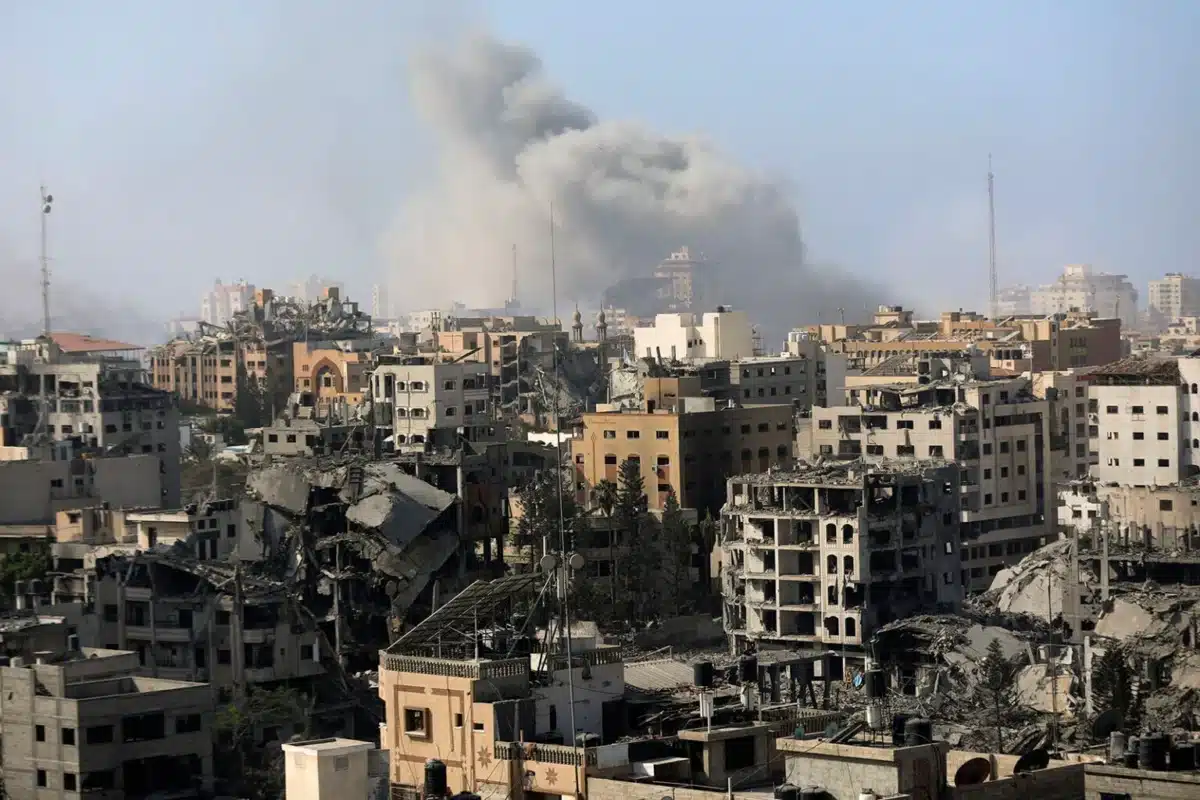 WASHINGTON (RNS) — In recent weeks, a group of Black Christian faith leaders met with White House officials and members of the Congressional Black Caucus, voicing concern about the growing humanitarian crisis in Gaza after Israel's ground assault into the region.
On Wednesday (Nov. 8), the clergy escalated their cause, buying a full-page ad in The New York Times — with the backing of more than 900 Black Christian faith leaders — calling for a cease-fire in Gaza, a secure entry for humanitarian assistance and a U.S. commitment to a peace process.
"We are faith leaders in the African American faith tradition, in the Black church prophetic tradition, and we are people familiar with pain and suffering enacted by state actors," said the Rev. Michael McBride, a California pastor and anti-gun violence activist who helped coordinate the letter.
In mid-October, a separate group of Black clergy that included the Rev. Otis Moss III of Chicago's Trinity United Church of Christ and the Rev. Gina Stewart, senior pastor of Christ Missionary Baptist Church in Memphis, Tennessee, signed a letter calling for "cessation of hostilities and violence from all parties."
Black faith leaders, McBride said, have condemned Hamas' Oct. 7 attack on Israel that left more than 1,400 dead and 200 kidnapped, but are also outraged by Israel's subsequent assault into the Gaza Strip that has claimed more than 10,000 lives, according to the Hamas-run Health Ministry.
"A cease-fire is our minimum demand … as moral faith leaders from the African American tradition who signed on to this letter," McBride said. "At some point, bombs and the fighting has to cease and move to a solution that is one of mutual coexistence, peace, and justice for all in the region."
The pushback to the U.S. administration's handling of the crisis comes amid polling that shows President Joe Biden's approval rating dipping disproportionately among African American voters compared with white voters.
The Rev. Barbara Williams-Skinner, CEO and co-founder of Skinner Leadership Institute, who also helped organize the letter, suggested that a failure to pursue peace could further alienate Black voters already disenchanted by unsuccessful efforts to pass federal voting rights bills championed by Black faith leaders.
"People want strong, moral, principled leaders, and they're looking for that in President Biden," said Williams-Skinner, who is also co-convener of the National African American Clergy Network. "They're looking for the same president we looked to for voting rights — we didn't get that. They're looking for the same president we looked to for the George Floyd Justice in Policing Act — we didn't get it.
"Whether or not this will make the commitment to him wane or not in 2024 is anybody's guess. But it certainly will not draw more people to him if he continues to watch over 10,000 people — mostly children — die, and say that you're standing on the side of moral order."
She added: "I pray that the president takes seriously the base — Black voters are his most loyal base."
At the same time, Black church leaders, led by Williams-Skinner, are hoping to meet with Jewish leaders in the coming days to talk about their position on the crisis.
Williams-Skinner said she's also been in contact with Rabbi Jonah Dov Pesner, who oversees the Religious Action Center of Reform Judaism, and Rabbi David Saperstein, who served as the U.S. ambassador for international religious freedom under former President Barack Obama.
Over the past few weeks, faith groups have been vocal about the war, with two liberal Jewish organizations mobilizing protests in New York, North Carolina, Washington, D.C., and elsewhere that have resulted in hundreds of arrests. Muslim groups have also staged protests and made direct appeals to Biden, as have Catholic groups and other Christian organizations, including a group that staged a pray-in at the Senate Hart Building on Thursday.
Since the wave of activism began, the Biden administration has slowly come to embrace the idea of "humanitarian pauses" to allow for aid to enter Gaza. On Thursday, the White House announced that Israel had agreed to daily four-hour pauses in fighting to allow more civilians to leave Gaza's northern region and for an increase in humanitarian aid entering from Egypt in the south.
"It's totally not adequate," said Williams-Skinner. "I mean, how many lives are enough? To add five days? Or two weeks? Or a month? There's no logic in that."
The Rev. Leah Daughtry, a pastor and former CEO of the Democratic National Convention Committee, praised humanitarian pauses as "a great first step" but insisted "more needs to be done," stressing the ongoing humanitarian needs of people in Gaza.
"You cannot, in my view, be a person of faith, whose primary driving factor is love, peace, and justice as our holy texts indicate, and not be concerned," she said, referring to the conflict. Daughtry noted that she is personally calling for a cease-fire that involves an end to hostilities "on both sides," and mentioned that she and others intend to continue to advocate on the issue as long as the conflict persists.