As a young athlete, Anthony Allen set his sights on winning the Mr. Spartan trophy, an award given by his junior high school to a three-sport athlete who excelled in competition. When he was awarded the huge trophy, Allen, who just a few years later became a starting defensive tackle at Duke University while it was coached by Steve Spurrier, thought it was the best thing that had ever happened to him. Years later, he threw the Mr. Spartan trophy and others away.
Allen, now president of Hannibal-LaGrange University in Hannibal, Mo., had moved several times during his career in Christian higher education, but the decision was about more than convenience.
"The joy from those trophies was fleeting," Allen said, reflecting on his sports career. "If that's all there is to life, life can be pretty disappointing."
It is not hard to believe that sports competitions have been part of society since societies began. Ancient rock art discovered in Libya shows evidence of swimming and archery being practiced around 6000 B.C. Cave paintings in France dating to around 15,000 years ago suggest sprinting and wrestling. Cave paintings in Japan, Mongolia and Egypt also depict wrestling, as does a cast bronze figurine found in Iraq dating to around 2600 B.C. that shows two figures in a wrestling hold.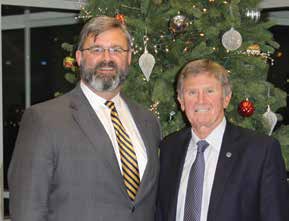 Anthony Allen (left) and Steve Spurrier at the annual Hannibal-LaGrange University Booster Banquet on Nov. 16, 2017, at which Spurrier gave the keynote address. (Hannibal-LaGrange University)In contemporary America, kids get involved in sports at young ages. Allen believes many of the positive qualities learned in sports, such as leadership, hard work and discipline, are helpful in molding successful adults. But sports can also foster negative qualities, including pride, arrogance and vanity — character traits that can lead down a disappointing path.
"Success often gives an athlete a false sense of themselves, and it can be hard to keep life in perspective if your identity is not in Christ," Allen said.
That is one reason sports programs at Christian colleges are valuable, said Ford Mastin, head coach of track and field and cross country at Oklahoma Baptist University in Shawnee, Okla. Though an athlete's faith, or lack of it, is not a condition to make the OKBU team, the environment will have an impact.
"We would hope that if someone came to be on our team, they would want to be in a Christian environment," Mastin said. "If they're not a Christian but they're willing to come, our hope is that maybe our environment can help point them to God."
One important way a Christian college environment is different from a secular school is in the way coaches and athletes conduct themselves both on and off the field, Mastin said. Off the field, student athletes, like all students at OKBU, have chapel requirements. They also have opportunities for Bible study and service projects through the athletic department. Though Mastin readily admits not every student is where he or she needs to be spiritually, the intentional effort to help them grow in their faith is ongoing.
"We model for them what we want them to value and work towards," Mastin said. "They're watching our intent, our priorities. They might buy into it or might not. But those who want to come when it's not mandatory get more out of it."
Ford Mastin (right) working with a student athlete. (Oklahoma Baptist University)On the field, Christian coaches like Mastin show that foul language and poor sportsmanship are not necessary for success. That's a big deal, he said.
"If coaches use foul language, the kids will, too," he said. "Our kids have been in an environment where that's not acceptable."
The lesson for athletes, and for those who work with them, is simple, he said: "Don't be afraid to stand up in your environment and be an influence. It's good if your kids are different and people will notice."
Jason Burianek, head football coach at Missouri Baptist University in St. Louis, Mo., also believes that creating a spiritually enriching environment begins with the coaches. That is one reason the coaching staff at MBU holds a weekly Bible study.
"Any time, whether we're in season or not, things are busy," he said. "We go from the season into recruiting into spring football to camp and then into the season again. There's not a lot of downtime. So, taking an hour a week as a staff has energized us, just realizing we're all struggling with the same stuff and need to take time out of our day to be intentional about studying the word."
Like Mastin, Burianek believes that when coaches model what a Christian lifestyle looks like, student athletes will be more inclined to see faith as important in their own lives.
"We incorporate Scripture and lessons of the Bible into what we're doing, maybe something we're dealing with as a team," he said. "On game days, we have chapel, a moment to slow down together."
And they pray together, before and after games and practices, an act which unites the team physically, spiritually and emotionally, Burianek said.
"There is a lot of intensity on the practice field. Guys are competing on both sides of the ball, and it can be easy to forget we're a team. Giving thanks reminds us what's important," he said.
Burianek, who played college football at the University of Colorado, said it is also important for young players to realize that their athletic career is going to last only so long.
"If you're really good in high school, it doesn't guarantee you're going to be really good in college. The same thing from college to pro. We've all got to have something more, and that's where faith and being a Christian can help," he said.
Burianek said the truth is that every athlete, even the great ones, will have a final season. That realization can be tough as someone younger, faster or stronger gets put on the pedestal, Burianek added.
"What is important is that people put Jesus on the pedestal, to realize who is giving them the skill and the ability to do what they do and always praise God for that," Burianek said. "Then when it's taken away, you've not been the focus — Jesus has been."