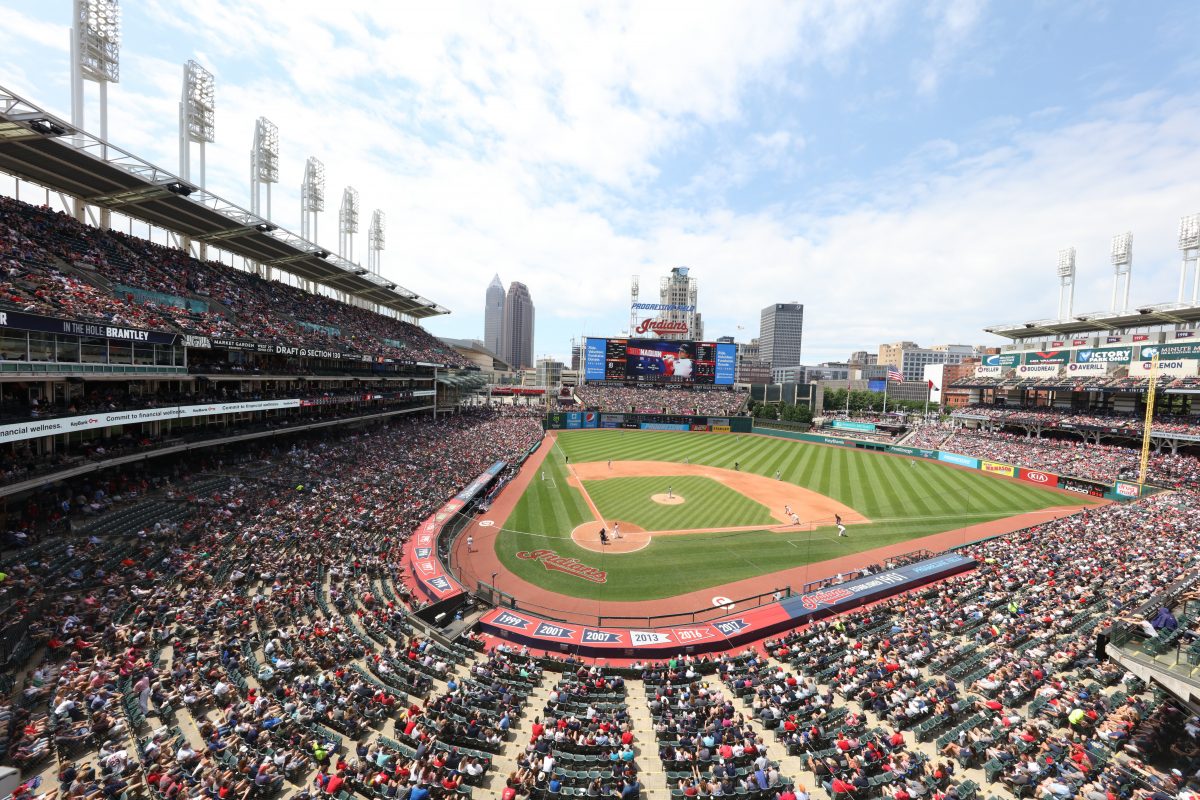 (RNS) — The first time I protested the Cleveland baseball club's Chief Wahoo logo and its name was in 1992. Two years earlier, the United Church of Christ had moved its headquarters to downtown Cleveland, and at our General Synod in 1991, voting delegates from across the country passed a resolution calling for an end to the racist stereotyping of Native American culture by sports teams and in commerce.
More than 28 years after we first joined local Native American activists to protest outside Municipal Stadium on Opening Day, team owner Paul Dolan has officially announced the organization will "begin the process of changing the name Indians and move forward to determine a new name that will better unify our community."
Twenty-eight years ago, only one downtown Cleveland business would display our postcards and other materials calling for an end to the blatantly racist portrayal of Native Americans: Sisson Jewelry on East Fourth Street. I learned that the owner, Ed Sisson, and his son had a museum of memorabilia from the Negro Leagues on the second floor of their downtown building.
Like Ed and his son, I love baseball's rich history, and Cleveland has one of the richest: from Nap Lajoie to Earl Averill to Larry Doby and Bob Feller to Albert Belle to Francisco Lindor, every generation has seen heroes come and go.
The struggles of the larger society often get played out on the baseball field. Jackie Robinson broke the color barrier, but not without America seeing its struggles over race embodied in him on the field of play, as they were in the many Black athletes that would follow him.
The Cleveland baseball team's way of dealing with America's racist tendencies was mixed. Doby was just the second Black player to take the field in the major leagues, in 1947. But Chief Wahoo, a caricature of a Native American meant as an endearing character to a largely White audience, bought into the fiction that White people somehow honored our Indigenous peoples by adopting Wahoo as a mascot.
There was nothing honorable, though, about Wahoo's outlandishly disfigured image on the uniforms, along with the inappropriately appropriated Native customs performed by largely White crowds. As we continue to mature as a nation and wrestle with past offenses, White America is growing more "woke" — less accepting of behaviors that we too easily dismissed in bygone days.
There can always be an "it's too late" air about these things. But we should always celebrate when we take the next step toward building an anti-racist culture. We should be glad to join the rising tide of history moving, albeit sometimes very slowly, toward a more just future. We should greet the moments that come where a new line in the sand declares, "Never again."
This is such a moment.
To the current ownership and management of the Cleveland Baseball Club, who will be remembered in the history of the game as having committed to ending this racist behavior, I say thank you.
To the team's manager, Terry Francona, who openly declared his desire to end this racist behavior, I say thank you.
To Juanita Helphrey, a Native American activist who once worked in the headquarters of the United Church of Christ and who organized protest after protest, year after year, I say thank you. Juanita, I am sorry you didn't live to see this. Please know your spirit lingers.
To the fans of the Cleveland Baseball Club, I offer both gratitude for your gracious acceptance of a new day in your long and cherished history, as well as my almost giddy anticipation of what new identity you will embrace. As a transplant myself, I have come to love, admire and cherish your openness to all cultures in this city of immigrants, as well as your creativity.
I hope and pray that as the city and the ballclub move through this season of change they will remain in close contact and relationship with leaders from Indigenous communities and organizations. Changing the name and the logo doesn't end the pain of wounds that have festered for generations now. It is a decision to be celebrated, but also one that has left a wound that needs healing.
The same good spirit that led to this decision can and should support a legacy of healing past wounds while moving forward with a new identity.
For all whose passion and energy contribute to building a new future for the city and this team and to the leadership and fans of the Cleveland Baseball Club, I share my deep and profound gratitude for an action that will long be remembered. Once again, you are a part of baseball's unfolding history, helping to shape a better world for the children who will come to learn and love this game as much as we do.
John C. Dorhauer is general minister and president of the United Church of Christ.