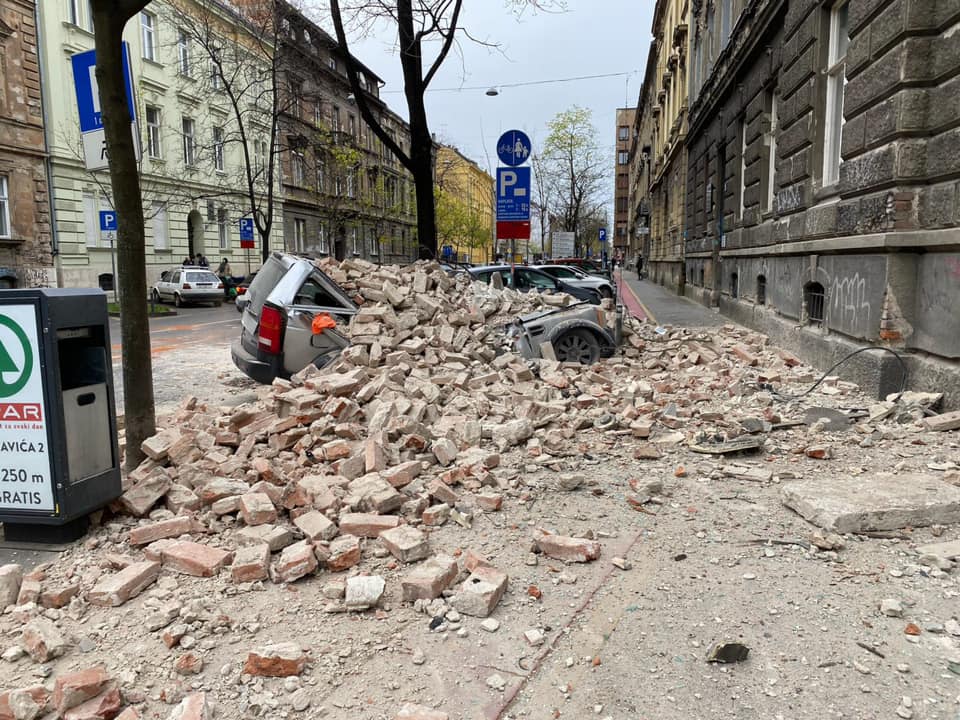 As countries across the world work to prevent the spread of the coronavirus pandemic, the Balkan nation of Croatia found its work complicated by a massive earthquake on Sunday (March 22) — which adds to the ministry work of the small Baptist community there. After a 5.4 earthquake struck a few miles north of the capital city of Zagreb at 6:23 a.m. local time, relief efforts were complicated by efforts to keep social distancing amid the coronavirus outbreak.
As of March 23, more than 375,000 people globally have been infected with the COVID-19 respiratory disease caused by coronavirus, and more than 16,000 have died. Croatia has 315 people who have tested positive and one dead. However, since it's a small nation, that number still puts their infection rate per million people at just over half that of the United States, where more than 42,000 people have tested positive.
Adding to concerns for Croatia, it sits near Italy, which is second only to China in total infections (with more than 63,000) and leads the world in deaths (with more than 6,000). The first cases in Croatia were traced to persons who traveled back from Italy.
The biggest earthquake to hit Zagreb in 140 years, Sunday's large jolt has been followed by dozens of aftershocks. Hundreds of buildings were impacted — including churches and the nation's Parliament — and at least one person died. People evacuated unsafe buildings, including multiple hospitals and the women and babies in the maternity ward at one hospital were instead sheltered in tents.
Baptists in Croatia are a small community, but are particularly active in relief work. According to the Baptist World Alliance, the Baptist Union of Croatia has 48 churches with about 2,000 members. In 2015, the Union created Croatian Baptist Aid to provide humanitarian relief, and that aid organization has been highly involved across the Balkan region and beyond in serving refugees entering Europe the past few years from the Middle East.
Toma Magda, director of Croatian Baptist Aid told Word&Way "there is significant material damage" from the earthquake, "especially around the city center of Zagreb." He noted the quakes will make it more difficult to prevent the spread of coronavirus.
"In recent weeks, Croatia has been fighting to flatten the curve on the spreading of the coronavirus," he explained. "Strict measures have been put in place, asking people to stay at home and avoid social contact. This has now been made difficult or even impossible as people are grouping in the streets as a result of the earthquake."
"People who have been displaced are being transported into secondary locations," he added on the day of the earthquake. "There has been a lot of movement today. We don't know what the repercussions of this could be in the coming weeks."
Magda said that restrictions developed because of coronavirus mean "no one can offer aid of any kind" following the quakes until receiving permission from the Red Cross and the government. Thus, Croatian Baptist Aid is preparing to respond but "waiting for further instructions from the governing structures."
"CBAid has spent the past several days visiting Baptist churches throughout the country, encouraging local pastors and church leaders and delivering hygiene packets," he said. "CBAid staff have acted individually in their local environment, helping neighbors, contacting emergency services, distributing some emergency blankets to people standing in the cold in their pajamas."
"There will be need for action as soon the situation stabilizes a bit," Magda added. "There is need for emergency blankets, gas detector devices, whistles, batteries, first aid kits, food kits, water, garbage bags, moist towelettes, hygiene packets, etc. This is a disaster situation, both because of the virus and the earthquakes, and we are treating it as such."
Ksenija Magda, a professor of biblical studies at the University of Zagreb and president of the Women's Department of the Baptist World Alliance, told Word&Way that coronavirus is complicating the earthquake relief efforts physically and emotionally.
"There are quite a few inhabitants who will have to sleep in shelters tonight," she said on the day of the earthquake. "The biggest issue is the lack of physical contact. People are in great need of comfort and being with their loved ones! We are all in need for peace."
As she wrote Word&Way a message, she noted there are new dangers like a big storm forecasted for that night and continuing aftershocks.
"All day long there are smaller quakes unsettling us and keeping us on edge. Like just now," she added.
Yet, even in the challenges of the quakes and coronavirus, she remains hopeful.
"We have been blessed with catching [COVID-19] early and our immunology doing an excellent job," she said. "God showed us mercy so far on all ends."