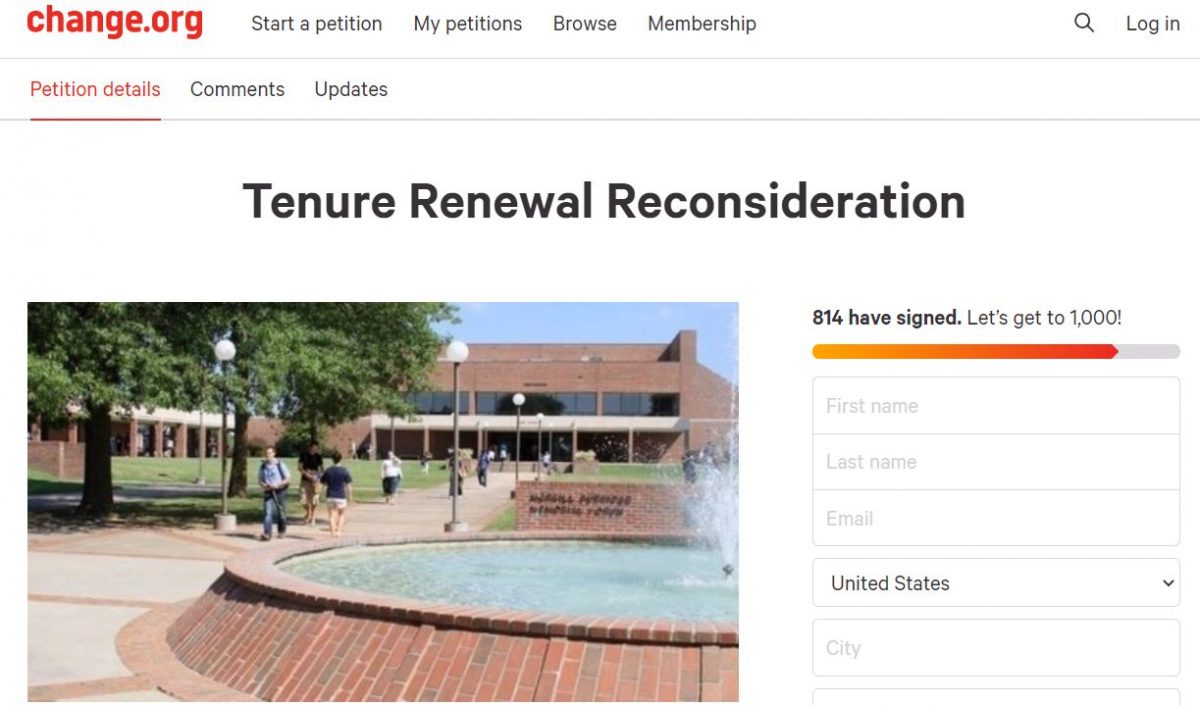 After Word&Way reported yesterday (Feb. 4) that trustees at Southwest Baptist University in Bolivar, Missouri, had denied tenure or promotion to five faculty members, an SBU student created a petition at change.org urging the trustees to reverse their decision.
The unusual move by the trustees came amid a two-year controversy over control and theology at the school, and as the school already faces an inquiry by its accreditation body after a complaint about earlier actions by the trustees and the Missouri Baptist Convention that elected them. Until recently, most of the controversy involved efforts to drive out several religion professors in the school's Redford Division of Christian Ministry.
The petition, created by Madelynn Kelley, names the three professors in the Division of Behavioral Sciences that were denied tenure: social work professor Dwayne Walker and psychology professors Bill DuVall and Debbie Walker. Two other professors in different areas of the school were also denied promotion, but have not yet been identified publicly so Word&Way is not naming them.
DuVall, with advanced degrees from both Southwestern Baptist Theological Seminary in Fort Worth, Texas, and New Orleans Baptist Theological Seminary in Louisiana, received SBU's highest teaching award in 2020. Both Walkers are graduates of SBU with extensive academic and professional experiences in their fields. Dwayne Walker serves as the director of the bachelor social work program.
The petition says those three professors and others were "unjustly denied" their tenure or promotion applications. The applications had been approved at all previous levels, including division head, dean, and provost.
"These individuals have been honored various times with numerous awards by the staff and students. Each of the professors have also passed the renewal process until it reached the decision of the board of trustees," the petition adds. "We are asking the board of trustees to reconsider their decision."
In the first 24 hours since its creation, about 800 people signed on, with several students or recent alumni adding comments praising the targeted professors.
Among those who signed the petition and offered a public comment at change.org was Joshua Sharp, a 2017 SBU graduate who received a B.A in psychology and Christian studies. Sharp, who later received a master of divinity from Truett Theological Seminary in Waco, Texas, currently works as a psychiatric nursing assistant in Waco. He told Word&Way he "took multiple classes with Dr. DuVall and collaborated with both of the Walkers for multiple extracurricular events relating to faith and mental health."
"All three people were some of the best faculty I had the privilege to know during my time at SBU, and I am disturbed by how they are being treated," Sharp added.
Targeting Behavior Sciences
Sharp told Word&Way that while he is "disturbed" by the treatment of the three professors, he's "not surprised."
"There has long been a conflict in evangelical and Southern Baptist circles over the integration of Christian faith and mental health. Some conservative Christians are convinced that the social sciences, particularly psychology and social work, are 'liberal' or 'secular,'" he explained. "But other Christians, including many conservative evangelicals, believe it is possible to integrate Christian faith and social science. The latter 'integrationist' approach is what I learned at SBU."
"The actions taken against these three faculty members are simply one more blow struck in this 'war' over faith and mental health," Sharp added. "As soon as I saw the MBC and some of the trustees taking action against certain Redford professors, I knew the department of behavioral sciences was next. And this incident will not be the last."
As Sharp noted, the action at SBU is not the first time such fields have come under fire in Southern Baptist life.
The most prominent example occurred at Southern Baptist Theological Seminary in Louisville, Kentucky. Shortly after assuming the presidency at SBTS, Al Mohler shut down the Carver School of Church Social Work — which was at the time had the only accredited master's in social work program run by a seminary of any denomination.
That program actually traced back to 1907 as a school founded by the Woman's Missionary Union to train female missionaries, and renamed the Carver School of Mission in 1953. After being transferred to SBTS a decade later, the program offered a religious education degree with a social work major. Then in 1984, SBTS expanded to the program to the Carver School of Social with a master's degree in that area.
But Mohler didn't like the program. He refused to grant tenure to faculty in the area and rejected a candidate for a faculty position for believing women could serve in pastoral ministry. And Mohler fired the dean, Diana Garland, in 1995 for publicly challenging his refusal to hire the professor. Those moves sparked accreditation problems, and the school ended the program in 1997.
"The culture of social work and the culture of theological education are not congruent," Mohler declared at the time.
The work of social work education continued after Mohler's actions, as SBTS transferred the Carver School to Campbellsville University in Campbellsville, Kentucky, a Baptist school that continues the program. Additionally, Garland, moved to Baylor University in Waco, Texas, in 1997 to lead their social work program — today known as the Garland School of Social Work.
Today, Mohler still leads SBTS and is running for president of the Southern Baptist Convention. And today, another Baptist school undergoes an internal conflict and rightward shift like the one he led at SBTS as he drove out theology and social work professors.