The staff page for The Dispatch looks pretty typical for a media outlet. There are editors, reporters, fact checkers, and various other titles reflecting its journalistic mission. But the publication is neither a newspaper nor a magazine. It is not even really a website. Instead, it
is a series of email newsletters sorted by topic that are delivered straight to inboxes.
Last fall, the New York Times reported that The Dispatch would generate nearly $2 million in revenue and had reached tens of thousands of subscribers during its first year in operation. Given the long-term decline of many media outlets, those numbers are astounding.
What made this success possible is a platform called Substack.
The name Substack may be unfamiliar to you at the moment, but it holds the potential to be the next Facebook, Twitter, or YouTube: a once strange, slightly confusing platform that is now part of our daily routines and cultural lexicon. There was a time in the 2000s where "liking a post" or sending out a "tweet" sounded odd and required explanation. Now these once weird behaviors are totally normal.
The idea of Substack is intuitive. Journalists and writers gain more control over their schedules and content, while readers get to choose what content is worth paying for and digesting. To understand this shift, let's contrast Substack with a daily newspaper.
Newspapers traditionally have a range of sections (local/national/world news, politics, business, opinion, etc). Every reader pays for the entire paper despite only wanting to read what is interesting to them. Lots of subscribers only wanting to follow sports or enjoy the comics end up subsidizing global newsgathering.
Relatedly, newspapers are critical "middlemen" between columnists and audiences. E.J. Dionne writes for the Washington Post because the newspaper provides a powerful platform for reaching the mass public. At the same time, part of the reason people subscribe to newspapers and magazines is reading their favorite writers like Dionne. The only way to gain access to their words was through buying the whole paper.
Substack changes both of these calculations. By signing up for a specific newsletter, a reader only pays for the content they want and is able to directly engage authors of their choosing. Writers find more security, as their influence no longer depends on the whims of an editor or the viability of their outlet.
There are fancy words, such as "disruption" or "disintermediation," applied to these types of innovation, but they can confuse as much as they clarify. The premise is simple: authors gain more independence, and readers enjoy a better experience. It is too early yet to label Substack "the future of journalism," but it is easy to imagine how that could be true. Regardless, the email subscription model has already earned a place within the media ecosystem.
A Public Witness
That is why Word&Way has launched its own Substack called A Public Witness. Every Thursday we take a deep dive into a pressing issue at the intersection of faith, politics, and culture. This new offering is a key component of our long-term strategy to sustain our ministry. We hope, as a magazine reader, you will also consider subscribing to this email newsletter.
To state the obvious, religious journalism is getting tougher by the day. With fewer people signing up for print magazines, and fundraising support difficult to come by for Christian media outlets, we need more ways of generating revenue and diversifying our funding sources. Adding a subscription newsletter was a way of accomplishing these goals without compromising our organizational mission.
Indeed, A Public Witness actually enhances what we are fundamentally about. Putting together a monthly magazine requires careful planning. The stories we run have to be both relevant but not always time sensitive. Nobody wants to read about an urgent event two weeks after the fact.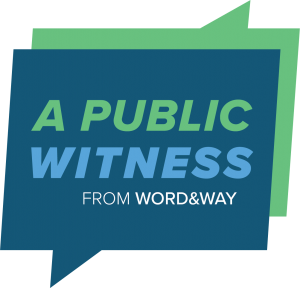 While our features in the print magazine focus on topics that are less sensitive to the weekly news cycle, A Public Witness allows us to speak quickly but still comprehensively about what is happening right now. A typical edition runs the length of a magazine feature, which means your monthly subscription is buying you access to 4-5 additional stories each month beyond what you read in the magazine. Recent topics for A Public Witness have included examining claims that voting is "sacred," Catholic bishops considering denying communion to Joe Biden, billionaires flying into space., and the end of the U.S. military mission in Afghanistan.
We are asking you to consider expanding your support of our ministry by also subscribing to A Public Witness. The cost is only $5 per month or $50 annually, giving you two months free when you pay for a whole year. All to say, for the cost of a fancy cup of coffee each month you can further help to create a vibrant future for Word&Way.
I am confident you will find the newsletter both inspiring and enlightening. With regards to what transpires in our American public life, it will help you think and respond more faithfully as a follower of Jesus. Still, you do not have to take my word for it. You can read a couple issues of A Public Witness for free (like one on CRT and another on innocence and justice). Take a read and, assuming you are intrigued by what you find, subscribe today to A Public Witness to make sure every email we send lands in your inbox. Then, please tell everyone you know to do the same!
Beau Underwood is vice president for external affairs & senior editor for Word&Way. He previously served in non-profit leadership roles in Washington, D.C., and as senior pastor of a Disciples of Christ church. He cowrites A Public Witness with Word&Way President & Editor-in-Chief Brian Kaylor.