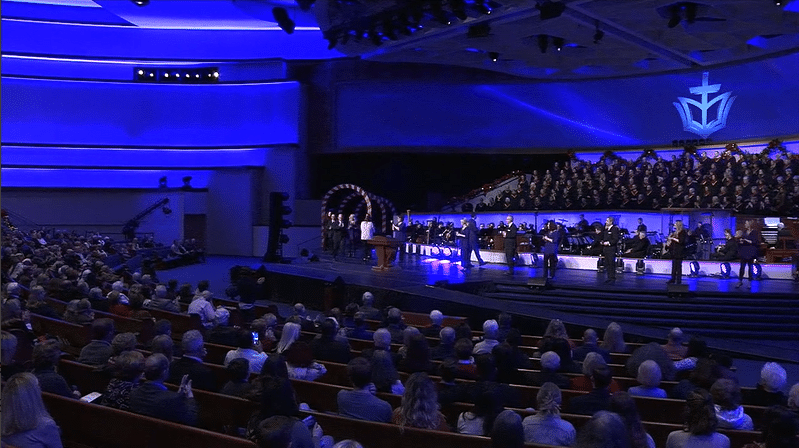 This Sunday, as the last Sunday in Advent, promises to be a special worship service. Christmas is almost here as we recount the birth of Jesus. That's where your focus should be, right?
But some at your church might instead fixate on the visit by a former ruler who likes gold. Since Rev. Robert Jeffress said the former president is coming because of "his love for Christmas and what it represents," here are a few song choices to make sure the service really highlights the message of Christmas for, if I may so boldly suggest, such a time as this.
Perhaps start by having everyone grab their Baptist Hymnal (of course) to sing hymn 194, "O Holy Night!" The third verse led to its popularity in the U.S. among abolitionists in the years just before the Civil War. Singing this song in your sanctuary seems important because some key founders of the church were enslavers. And given the recent acquittal of Kyle Rittenhouse and the convictions of the killers of Ahmaud Arbery, this song is a needed reminder this year that the birth of Jesus heralds the coming of a justice far higher than our own. 
Chains shall he break, for the slave is our brother,
And in his name all oppression shall cease.
Of course, that song might now be banned in Texas as CRT, so you might want to double-check for any prohibitions (and cull your church library too). Maybe if you burn a mask on the Advent candles during the song you can avoid being canceled as "woke" for singing what Christians have used in worship for more than 170 years. 
Next, you could direct people to turn to hymn 196 for "O Little Town of Bethlehem." I would suggest reminding people that Bethlehem today sits in the occupied territory of the West Bank, where Christians currently accuse Israeli officials of discrimination. Of course, your special guest who so prominently "supported" Israel now questions who really wants peace and offered less-than-flattering assessments of former Israeli Prime Minister Benjamin Netanyahu with the 'f-word' (by which I don't mean 'fa-la-la-la-la-la-la-la-la'). Is your congregation finally ready for a honest conversation about Israeli policies toward Palestinian Christians?
Then for a solo as the special music, please consider a song not in Baptist Hymnal but found in lots of others (and in your Bibles): "The Song of Mary" (also known as "Magnificat"). The song not only answers if Mary did know, but also reminds us of some implications of this newborn King for would-be rulers. In this melodic sermon, the woman will praise "the Might One" and note why "holy is his name." 
He has brought down the powerful from their thrones,
and lifted up the lowly;
he has filled the hungry with good things,
and sent the rich away empty.
For a responsive reading, it might be redundant to actually read that section in Luke 1. Maybe try something about that Herod guy. Just stay away from Two Corinthians. 
To pack in more Christmas punch, your choir at this point could do a quick medley to remind us that we have one — and only one — King. Any Caesar who wants to usurp authority should find these hymns troubling, but Christians must not abandon this theology. I don't want to micromanage, but a nice mix would be verse one of "Joy to the World," verse two of "Angels, from the Realm of Glory," verse three of "Angels We have Heard on High," and the chorus of "What Child is This." Triumphant! 
Bringing the congregation back to their feet, you could at this point have them turn to hymn 187, "I Heard the Bells on Christmas Day." Surely you know that Henry Wadsworth Longfellow penned the words during the Civil War as he lamented the violence tearing apart the nation. Here we are at the first Christmas since violent insurrectionists attacked the U.S. Capitol and even paraded Confederate flags inside. So, I suspect many are feeling Longfellow's words about the violent "sound the carols drowned." 
And in despair I bowed my head;
"There is no peace on earth," I said;
"For hate is strong,
And mocks the song
Of peace on earth, good-will to men!"
So, perhaps we should peal "the bells more loud and deep" to declare that "wrong shall fail" and "right prevail." As even Rev. Jeffress noted, the election wasn't stolen. We should be glad the coup failed. 
After the sermon by Rev. Jeffress and a "Christmas greeting" from an unscrupulous, profane, thrice-divorced casino magnate who tried to overthrow our nation's democracy to protect his own ego, perhaps you should come back to the stage to lead the congregation in hymn 175, "O Come, O Come Emmanuel." I mean, if we're ever going to sing about a "captive" people who need the Son of God to "ransom" them from their political "exile," this seems like the time and place. But before that ransom comes, we have to go on "the path of knowledge" and follow "wisdom from on high." 
If all this seems too difficult to pull off (or perhaps the real messages of Advent and Christmas are just too politically charged for the Christian Nationalists in your congregation), then you might want to scrap the whole program and go with lighter hits  about Frosty, figgy pudding, and a red-nosed reindeer. Or, you could make your special guest happy by having the whole congregation stand and look at him while singing, "All I Want for Christmas is You." That's what he really wants to hear anyways since he even manages to make the birth of Jesus all about him. 
Anyway, enjoy your "worship."