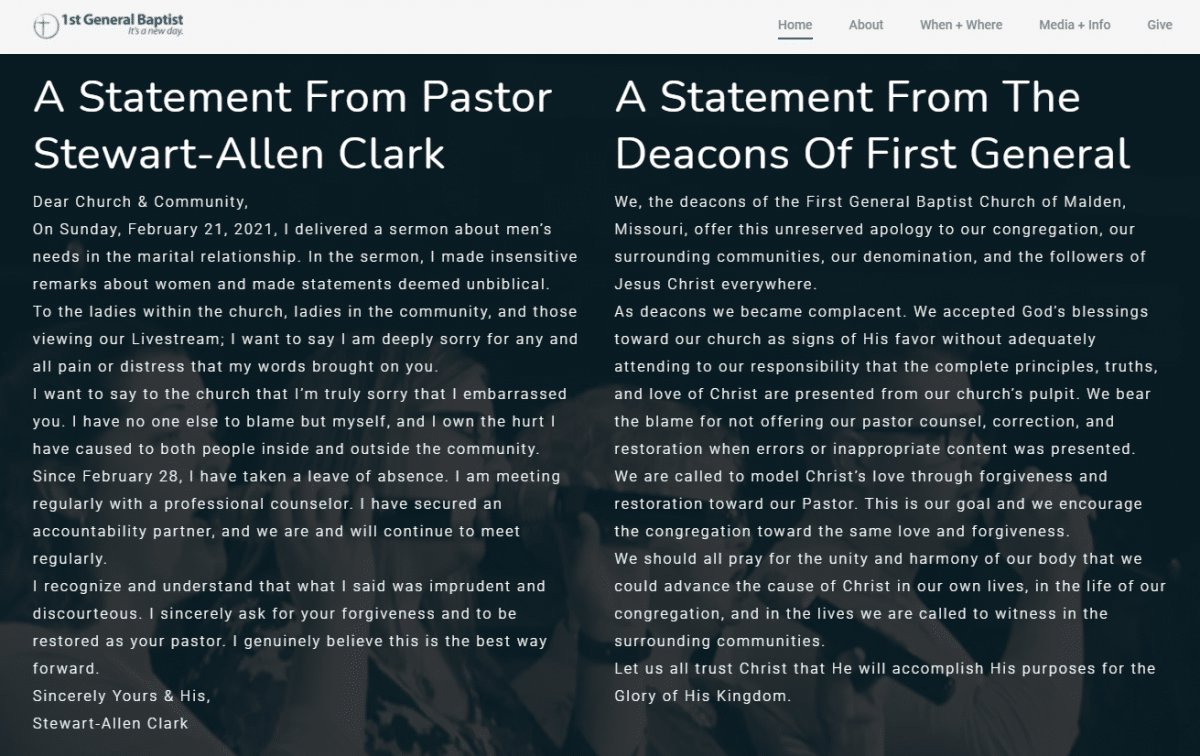 A General Baptist minister in Missouri who went on leave after a February sermon widely criticized for sexist comments about the weight of married women issued a new statement along with his church as he prepares to return to the pulpit. Stewart-Allen Clark, pastor of First General Baptist Church in Malden, Missouri, apologized for the sermon, and the deacons of the church reaffirmed him.
During the Feb. 21 sermon, Clark asked, "Why is it so many times that women after they get married let themselves go?" He also joked about wedding cake being "a food that diminishes a woman's sex drive" and that women wear makeup and perfume because "you don't want to be ugly and stink."
"Now look, I'm not saying every woman can be the epic, the epic trophy wife of all time like Melania Trump," Clark added. "All I can say is not everybody looks like that, amen? … But you don't need to look like a butch either."
After a video from the sermon gained attention online, the General Association of General Baptists said in a March 1 statement that Clark resigned from his position as moderator of the 2022 meeting of the denomination. The group also criticized the sermon as "not consistent with the positions and values of General Baptists."
On March 2, Clark went on leave from the church to seek professional counseling. Now, less than seven weeks later, he seems set to return, albeit with an apology and more counseling.
In a statement on the church's website, Clark acknowledges he "made insensitive remarks about women and made statements deemed unbiblical." He mentioned his regular visits since then with a counselor, and said he now has "an accountability partner."
"To the ladies within the church, ladies in the community, and those viewing our livestream; I want to say I am deeply sorry for any and all pain or distress that my words brought on you," Clark added. "I want to say to the church that I'm truly sorry that I embarrassed you. I have no one else to blame but myself, and I own the hurt I have caused to both people inside and outside the community."
"I recognize and understand that what I said was imprudent and discourteous. I sincerely ask for your forgiveness and to be restored as your pastor. I genuinely believe this is the best way forward," he added.
The church posted a statement from its deacons next to Clark's apology. The deacons expressed their failure to act and offered an "unreserved apology."
"As deacons we became complacent," the statement reads. "We bear the blame for not offering our pastor counsel, correction, and restoration when errors or inappropriate content was presented."
"We are called to model Christ's love through forgiveness and restoration toward our pastor," the deacons added. "This is our goal and we encourage the congregation toward the same love and forgiveness."
The statements do not note when Clark will return to preaching.