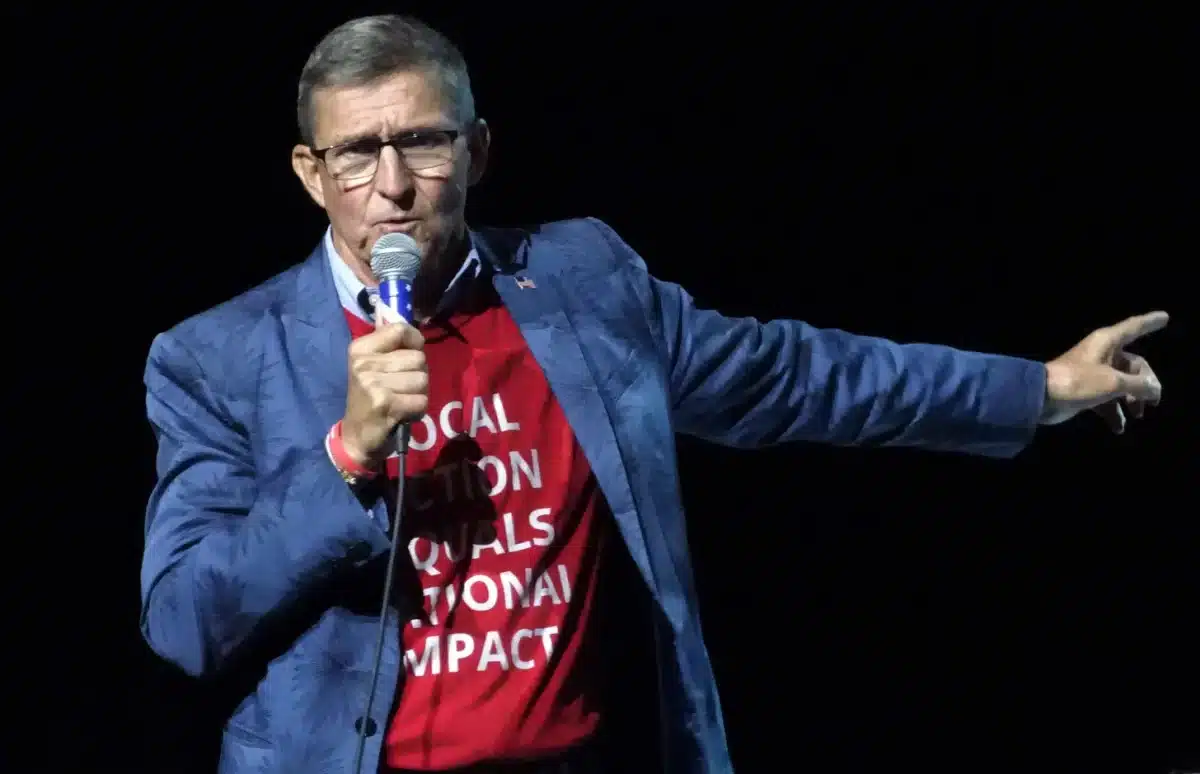 After two years of traveling around the nation, the ReAwaken America Tour (or RAT for short) trekked to its spiritual home for the latest iteration over the weekend: a Trump property. In addition to gathering at Trump Doral in Miami, Florida, hearing speeches from Eric and Laura Trump, and listening to remarks from numerous Trump insiders, the attendees also heard via a phone call from the Republican frontrunner who RAT speakers insist won the 2020 election and who God has ordained for another term.
And if you don't think Donald Trump is God's chosen candidate in 2024, the face of the RAT events has a message for you.
"The other side is an ideology that, they don't have faith, they don't believe in God, they have no soul, they have no consciousness," Michael Flynn declared on Friday (May 12). "When we think about something, we go black-and-white, right-and-wrong, good-and-evil. They don't see things like that."
Flynn, a retired Army lieutenant general, briefly served as Trump's National Security Advisor before resigning because he lied to Vice President Mike Pence about his communications with a Russian government official. Later in 2017, he pleaded guilty in the Mueller investigation to a felony count of making false statements to the FBI, but Flynn later received a pardon from Trump. During the former president's phone call on Saturday that Flynn held up to the RAT microphone, Trump told Flynn "we're bringing you back" if Trump wins next year.
Flynn cannot be dismissed as a marginal figure given his connections to Trump and his role driving the RAT events. So when he declared that those on the other side are "soulless," that matters. Many people trust and follow him (as my replies on Twitter showed over the weekend after I critiqued Flynn's remark, which grew after Newsweek reported on some of my tweets).
It's one thing when Flynn outlines his Christian Nationalistic desire for one religion to rule the nation. And it's one thing when Flynn urges pastors to preach about the U.S. Constitution as much as the Bible. And it's one thing when Flynn argues you are either a Christian Nationalist or "an atheist and a globalist." Those comments at previous RAT events were bad enough. But it's another thing to call one's opposition "soulless."
Such dehumanizing rhetoric is dangerous. But Flynn and others joining him on stage frequently offer comments that paint political differences as a cosmic battle against soulless or evil forces, like calling those on the left "demonic" or invoking the "armor of God" while talking about the need for a 1776 moment. That kind of rhetoric was heard at Trump Doral over the weekend, along with other statements offering thinly-veiled (if at all) support for violence — including rewriting the words of Jesus.
"You got to get to the point where you realize that when they smack you in the face, you smack them back two times harder!" Pastor Mark Burns declared Friday before laughing that they might have thought he was going to say something else (which means he joins other MAGA theologians in cutting "turn the other cheek" from the Bible).
"The Bible says the violent take it and we take it by force," he added as he took Matthew 11:12 out of context. "We are here and ready to take this nation back, and I believe without a shadow of doubt the only man that God has anointed here in 2024 to be the next president of the United States of America, and that is Donald J. Trump! Are you ready, America? Are you ready, America? That's why we've come to declare war on this transgender agenda."
Others echoed the call for battle, like "prophet" Julie Green who, while speaking as God, said "the Biden" was about to be removed from the White House and we're in a new American Revolutionary War. And the crowd cheered speeches from a couple of individuals convicted for their actions at the U.S. Capitol on Jan. 6, 2021, including one who then led those present in showing their devotion to the cause by reciting the Lord's Prayer (which isn't the first time that prayer's been invoked to support Jan. 6 defendants).
Dehumanizing rhetoric like Flynn's "soulless" remark isn't just theologically unchristian, but it's also politically dangerous. Fortunately, there is a better way. So this issue of A Public Witness highlights some Christians challenging the rhetoric of Flynn and others at RAT before offering a theological reminder about how we talk about those with whom we disagree.
Good for the Soul
Not only is Flynn wrong about those opposed to him not believing in God, but some of the staunchest critics of him and RAT speak out precisely because of their faith. Concerned with the perversion of the teachings of Jesus and the harm to the Christian witness (not to mention efforts to undermine democracy and make our communities less safe), tens of thousands of Christians have signed statements condemning RAT events. And as Jeremy Fuzy reported for Word&Way on Friday, several Christian leaders gathered at All Angels Episcopal Church in Miami Springs to offer an alternative witness as RAT kicked off nearby.
"We are here today as Christians who are horrified to see the faith that we hold dear being used to spread lies, violence, and authoritarian theocracy," declared Amanda Tyler, executive director of the Baptist Joint Committee for Religious Liberty. "We are here to say to the millions of Christians across this country who are likewise horrified and angry about Christian Nationalism: You are not alone."
Proof of her remark can be seen in the more than 30,000 who have signed a statement put out by Christians Against Christian Nationalism. Tyler, the lead organizer of the effort, noted on Friday that as a faithful Christian she is speaking out against RAT because "I am deeply concerned about how Christian Nationalism is threatening both our democracy and a faithful Christian witness." And since RAT makes its claims in the name of Christianity, Tyler added that White Christians who have benefited from Christian Nationalism "have a special responsibility to stand up and stand against Christianity Nationalism and to explain how it is a gross distortion of Christianity."
Because of the distortions, Rev. Russell Meyer, a Lutheran pastor who serves as executive director of the Florida Council of Churches, said the RAT events "are taking the Lord's name in vain" as they offer a "false religion" by trying "to make Christianity about 'America First'" and promoting violence and government power to enforce religious beliefs.
"Jesus's church is in every land, and it welcomes people from everywhere," he added. "If you make it about one nation, it is no longer the church of Jesus Christ."
Rev. Nathan Empsall, an Episcopal priest who leads the advocacy group Faithful America, critiqued the RAT movement as a Christian Nationalistic effort "to seize political power for its conservative Christian adherents at all costs and at the expense of all others." He called RAT "one of the most egregious examples of Christian Nationalism we have seen since the Jan. 6 insurrection."
"That's not a religion — it is a political ideology. One that coopts the symbols and rhetoric of religion," Empsall explained. "Each ReAwaken America tour is a toxic, extremist, heretical, and harmful blend of baptisms, praise music, election denial, and QAnon misinformation — things that do not belong together — all presented to an audience of thousands in Jesus's hijacked name."
"[We] are sick and tired of seeing our faith twisted, abused, and hijacked for a hateful, authoritarian political agenda," he added.
Rev. James Golden, an AME pastor who co-founded Pastors For Florida Children, denounced "the so-called Christian Nationalism being propagated over at Trump Doral," insisting it "is not founded on true Christian principles." Instead, he argued RAT was an "abomination" that undermined democratic rights, equality of all people, and Christian teachings.
And Rev. Jennifer Butler, a Presbyterian minister who founded Faith in Public Life, similarly denounced the RAT events for promoting "the violent heresy" of White Christian Nationalism. Thus, Christians must speak out against this "wolf in sheep's clothing."
"As a Christian and as a pastor, I must denounce this twisting of my faith, this leading of people astray into a spiritual crisis and a spiritual disease that harms families and disrupts and breaks communities," she added. "It is not Christian. It does not belong in a democracy. It is the weaponizing of our faith."
But despite that, Butler said she has hope. She pointed to the mobile billboards on trucks behind her, noting that the organizations adding their voices to challenge the Christian Nationalism of the RAT events represented nearly 3 million Christians. One of those logos is that of A Public Witness, which we were invited to submit due to our partnering with Faithful America and Christians Against Christian Nationalism at a similar event in Branson, Missouri, when RAT showed up there in November.
But this time, there wasn't just a truck driving around Miami with a message challenging the nearby event. There was also a boat.
Soul-Searching
When Michael Flynn calls his opposition "soulless," he is clearly lying. Many Christians are speaking out against his movement. But the problem is worse than misinformation. Rhetoric like that is dangerous because it could set the stage for violence — just like we saw on Jan. 6, 2021, after comments by Flynn and others in the aftermath of the 2020 presidential election.
Calling someone "soulless" dehumanizes "the other" person as not really a person. It suggests they are worth less than those on "our side." It implies there is no chance for redemption. They can't be saved or won over. Instead, they are an existential threat. The only solution is to utterly destroy these living dead figures. That's why we often see dehumanizing rhetoric like that ahead of mass violence.
"Before we enter into warfare or genocide, we first dehumanize those we mean to 'eliminate,'" explained philosopher Sam Keen in his book Faces of the Enemy as he analyzed propaganda messages in various countries used to justify killing. "It is not a person we kill, but an idea."
That doesn't mean every dehumanizing comment is intended to lead to death or does do that, but as Keen and other scholars have documented, those who desire war and genocide often embrace such rhetoric. Flynn and other speakers at his events are playing with fire. And someone else might get burned … again.
But that's also a reminder to those of us who oppose Flynn's toxic blend of Christian Nationalism, election denialism, and COVID conspiracies. Flynn is a lot of things, but he's not soulless. Flynn was made in the image of God, given the divine gifts of breath and soul. Flynn is loved by his Creator to the point of Jesus even humbling himself to come to come as a human and die on a cross. Flynn could repent and change.
So no matter how dangerous we might see someone like Flynn and no matter how wrong we might believe he is about the Constitution, the Bible, and other important matters, we should avoid offering rhetoric that mirrors his dehumanizing rants. This can be difficult in our polarizing politics and with bad actors undermining democracy and distorting Christianity. But we must not become the thing we oppose.
"We have taken this stuff about tribe, ethnicity, and national identity too seriously," wrote theologian Emmanuel Katongole in his book Mirror to the Church: Resurrecting Faith after Genocide in Rwanda. "In so many places, it has become idolatry. What we need is a new sense of Christian identity that will cause a much-needed confusion of tribal loyalty. Unless this happens, all our singing and proclamations about Christ are empty words. Unless we are defined by a new identity, all our Easter celebration is nothing but a haunted liturgy, with death, genocide, and betrayal lurking in its shadow."
Sometimes it's tough to live as resurrection people. Like when watching Michael Flynn speak at another ReAwaken America event. But God didn't promise it would be easy to turn the other cheek. Yet, it's still part of what it means to love God with all our heart, mind, strength, and soul.
As a public witness,
Brian Kaylor