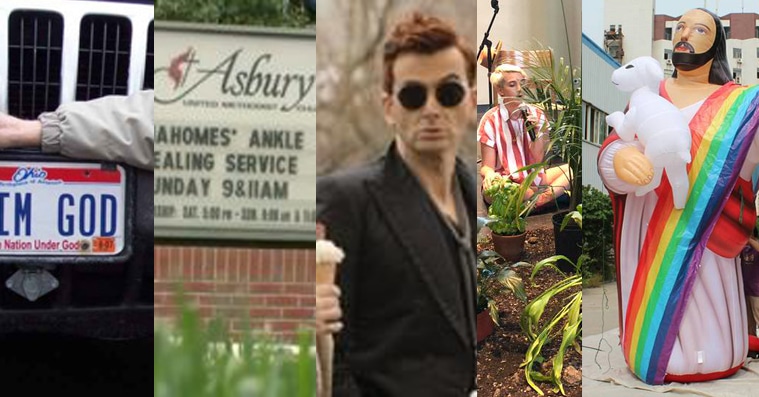 Sewing machines. The theory of relativity. Google. The Beatle's "Yesterday." The Terminator.
What do all these have in common? They were all inspired while someone was asleep. But not every inspired dream is a good one. And when it seems a religious idea probably owes its existence to indigestion rather than inspiration, that's when we break out our annual Bad Burrito Awards.
For instance: Have you ever had communion, but hate to share a plate with others? That's not a problem, thanks to Purity Communion. Their host dispensers combine the sanctity of the occasion with the innocent charm of a Pez dispenser.
Or, how about an inflatable Jesus? Not a miniature that can fit on your desk. No, we're talking about Alibaba's 13-foot Jesus – one arm raised, the other carrying a lamb – sure to inspire and terrify the neighbors. Or, this curious variation.
Church services can also be award recipients. Take Middleton Church of Christ in Tennessee and their fall lecture series, "The Christian Woman," including sessions on woman as wife, mother, and teacher. Sounds interesting – only, why were all the sessions being led by men?
Then there's the object lesson that got out of hand for the youth at Impact City Church in Pataskala, Ohio. In understanding what Jesus experienced on the way to his crucifixion at Easter, an associate pastor ended up slapped, beaten, and cut. That's certainly Burrito-worthy.
And, even as a sports fan, I wonder about the healing prayer service held at Asbury United Methodist church in Prairie Village, Kansas – for the injured ankle of the Kansas City Chief quarterback, Patrick Mahomes. (For the record, they accepted requests for other NFL teams too, although it was noted at that time they hadn't "received any prayer requests for the Chiefs opponents.")
And of course, there are those news stories that suggest somebody, somewhere should get their own Bad Burrito:
Whenever you see a burrito, let it serve as a reminder to be salt and light in the world by communicating in creative – but thoughtful – ways.
Ken Satterfield is a former media specialist and current marketing director for Word&Way. He welcomes your product suggestions. By the way, inclusion in this article does not constitute an endorsement. 
Past Bad Burrito columns:
2019   2018   2017   2016   2015   2014   2013   2012   2011   2010   2009   2008   2007   2006   2005